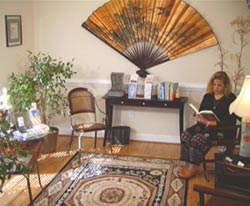 Acupuncture Center of Fernandina offers you a full spectrum of medical knowledge gained from over five thousand years of recorded experience. Traditional Chinese Medicine is the second most popular form of health care in the world. Our clinic offers affordable treatments and preventive therapies to balance Body, Mind and Spirit.
Please Click on the above tabs to obtain detailed information about Acupuncture, Herbal Medicine, our credentials,
diseases treated and patient's experiences.
We look forward to meeting you!

Hours By Appointment Only, You can usually reach me,
James Jones, DOM, directly:          Telephone: 904-277-2050
[as far as I know, this site does not use cookies and never will]
Shi Ba Shi Qi Gong Note:
This is my favorite version of this popular 18 moves qi gong form in two parts:
Though a copy from VidTape you can see Lin Hou really moves the Qi.  (No instructions, only music, so up and inward movements are IN breath, down and outward are OUT breath.) Practice this every day, it will change your life.
James
This is another more clear and instructional version: