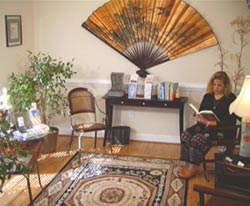 Acupuncture Center of Fernandina offers you a full spectrum of medical knowledge gained from over five thousand years of recorded experience. Traditional Chinese Medicine is the second most popular form of health care in the world. Our clinic offers affordable treatments and preventive therapies to balance Body, Mind and Spirit.
Please Click on the above tabs to obtain detailed information about Acupuncture, Herbal Medicine, our credentials,
diseases treated and patient's experiences.
We look forward to meeting you!

Hours By Appointment Only
Telephone: 904-277-2050
I was challenged recently by an analytical, scholarly patient, that we do not use diagnosis to direct our treatments like the Western doc's do.  I answered on the contrary, that in fact is the basis of our treatment plan, yet it is so hard to explain to the layperson how we go about this.  Recalling how I thought it seemed easy the way my apprenticeship mentor would select needling points and write a formula, I understood the difficulty this patient had of 'understanding' how we work.  So I searched for a common TCM diagnosis and what others might have written on the subject and found this:
http://www.thelantern.com.au/resource_detail.php?id=263
It is a good example of the practical nature of how we practice this ancient medicine. Please take a look!
James