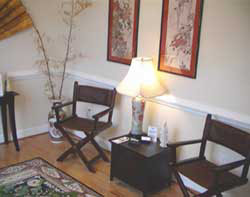 JAMES F. JONES, OUR LICENSED ACUPUNCTURIST & DIPLOMATE OF CHINESE HERBOLOGY,
Will invite you to discuss your lifestyle and health concerns in the relaxing privacy of our clinic. To obtain detailed information about your health, Mr. Jones utilizes over 30 qualities of your pulse. By observing your tongue, he can diagnose whole body imbalances. He will prescribe Chinese herb formulas, and suggest lifestyle changes to enhance your health journey.
Mr. Jones will recommend acupuncture and complementary therapies to restore COMPLETE BALANCE TO YOUR BODY, MIND AND SPIRIT.
We hope our FAQs section will address questions or concerns you may have about ACUPUNCTURE, CHINESE HERBAL MEDICINE and related therapies; please call us if we can be of further assistance: 904-277-2050.
HOURS BY APPOINTMENT ONLY
When you visit our clinic, you will have the opportunity to read brochures and books that will provide you with more information about TCM.
ASK US ABOUT
videos, classes & demonstrations, or materials that you can take home to read at your leisure.