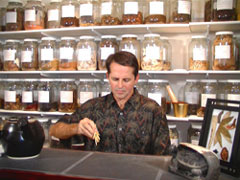 Q: WHAT ARE CHINESE HERBS?
A: CHINESE HERBS ARE MEDICINALLY CULTIVATED PLANT, MINERAL, AND FAUNA SUBSTANCES, USED IN A RAW, DRIED FORM. YOUR HERBALIST WILL CREATE A PRECISE FORMULA (PRESCRIPTION) FOR YOU THAT WILL ADJUST THE ROOT CAUSE OF YOUR HEALTH IMBALANCES.
Q: ARE CHINESE HERBS USED IN CONJUNCTION WITH ACUPUNCTURE?
A: YES! THEY WORK HAND-IN-HAND, BECAUSE THEY OPERATE FROM THE SAME FOUNDATION OF CHINESE MEDICAL DIAGNOSIS. THE HERBS ALLOW YOU TO PARTICIPATE IN YOUR TREATMENT AND CONTINUE THE MOMENTUM STARTED BY THE ACUPUNCTURE.
Q: WHAT IS THE MOST EFFECTIVE WAY TO TAKE THE HERBAL FORMULA?
A: WATER-BASED BOILING EXTRACTION IS THE MOST EFFECTIVE WAY TO PREPARE THE HERBS. YOU BREW THE DRIED HERBS, FOLLOWING INSTRUCTIONS, AND DRINK A CUP OF CONCENTRATED "TEA" AS OFTEN AS PRESCRIBED BY YOUR HERBALIST.
Q: WHAT DOES CHINESE HERBAL TEA TASTE LIKE?
A: HERBS ARE MEDICINE, AND SOME FORMULAS TASTE BITTER OR "BAD" TO SOME PEOPLE. HOWEVER, WITHIN A SHORT TIME, MOST PEOPLE BECOME ACCUSTOMED TO THE TASTE, AND ARE SO DELIGHTED WITH THE POSITIVE CHANGES IN THEIR BODIES THAT FLAVOR IS NO LONGER A FACTOR.
Q: CAN I ADD SUGAR, HONEY, MILK, LEMON OR OTHER FLAVORINGS TO THE TEA?
A: THE ADDITION OF FLAVORINGS OR OTHER INGREDIENTS WILL ALTER THE MEDICINAL EFFECTS OF YOUR PRESCRIPTION. HOWEVER, YOU CAN USE A "CHASER" OF FRUIT OR A SMALL AMOUNT OF JUICE WITHOUT NEGATIVE EFFECTS.
Q: FOR HOW MANY DAYS OR WEEKS WILL I BE DRINKING THE TEA?
A: MANY ACUTE PROBLEMS, LIKE THE COMMON COLD, CAN BE SOLVED WITHIN A FEW DAYS. AS WITH ACUPUNCTURE, THE DURATION AND NATURE OF YOUR AILMENT IS AN INDICATOR OF HOW LONG THE HERBAL TREATMENT MAY TAKE. YOUR CONDITION WILL BE MONITORED BY THE HERBALIST AND THE DOSAGE WILL BE ADJUSTED ACCORDINGLY.
Q: IS IT OKAY TO SKIP A DOSAGE OR AN ENTIRE DAY OCCASIONALLY?
A: OCCASIONAL BREAKS IN ROUTINE ARE TO BE EXPECTED. HOWEVER, THE CONTINUAL PRESENCE OF THE HERB FORMULA IN YOUR BODY IS THE DRIVING FORCE FOR A CURE, SO IT'S IMPORTANT TO TRY TO STICK TO YOUR HERBALIST'S RECOMMENDATIONS.
Q: WHAT SHOULD I DO IF I AM TRAVELING?
A: IF PRACTICAL, YOU CAN TAKE ALONG A BREWED QUANTITY OF CHINESE HERB TEA AND KEEP IT IN A COOLER OR REFRIGERATOR. IF THIS IS IMPOSSIBLE, A GENERIC EXTRACT POWDER CAN BE PROVIDED PRIOR TO YOUR TRIP. ASK YOUR HERBALIST.
Q: HOW LONG DO THE DRIED HERBS AND BREWED TEA LAST?
A: DRIED HERBS WILL LAST FOR WEEKS WHEN KEPT DRY IN AN AIRTIGHT CONTAINER AND STORED IN A COOL PLACE. THE WATER-BREWED FORMULA WILL KEEP FOR A WEEK OR SO IF REFRIGERATED. AN OLD FORMULA DOES NOT NECESSARILY FIT A CURRENT CONDITION, SO CONSULT YOUR HERBALIST BEFORE USING PREVIOUSLY-PRESCRIBED HERBS.
Q: CAN THE HERBS BE TAKEN IN CAPSULE FORM?
A: IF YOU FIND THAT YOU CANNOT DRINK THE TEA DUE TO NAUSEA OR OTHER FACTORS, CONSULT YOUR HERBALIST FOR SUGGESTIONS. IT IS QUITE EXPENSIVE TO CUSTOM ORDER AN EXTRACT POWDER IN CAPSULES. THE EXTRACTS CANNOT EQUAL THE EFFECTIVENESS OF THE RAW HERBS, BUT THIS IS AN ACCEPTABLE ALTERNATIVE.
Q: CAN I COOK THE HERBS WITH FOODS OR EAT THEM RAW?
A: RAW OR GROUND HERBS HAVE NOT BEEN BROKEN DOWN BY THE COOKING PROCESS. SOME ARE SLIGHTLY TOXIC PRIOR TO COOKING. MANY ARE HARD ROOTS WITH EFFECTIVE INGREDIENTS THAT MUST BE EXTRACTED FROM THE CELLULOSE FIBERS BY COOKING. SOME HERBS, HOWEVER, CAN BE COOKED WITH FOODS; SPECIALIZED COOKBOOKS ARE AVAILABLE.
Q: CAN OTHER FAMILY MEMBERS ALSO DRINK MY CHINESE HERB TEA?
A: A TASTE TO SATISFY CURIOSITY WILL NOT HURT, BUT CHINESE HERBS ARE STRONG MEDICINE AND CAN BE HARMFUL TO THE WRONG PERSON. EACH FORMULA IS CUSTOM PRESCRIBED.
Q: ARE THERE ANY DANGERS OR SIDE EFFECTS FROM CHINESE HERBS?
A: WHEN PRESCRIBED BY A CERTIFIED CHINESE HERBALIST, AND PREPARED AS DIRECTED, DANGERS ARE VIRTUALLY NONEXISTENT. SIDE EFFECTS ARE RARE. THE MEDICINE IS FORMULATED TO FIT THE DISEASE AND THE PERSON. SOME HERBS ARE VERY POWERFUL AND  A VERY FEW ARE  TOXIC PRIOR TO COOKING.
Q: IF A WESTERN DOCTOR IS TREATING ME, SHOULD I ASK HIM/HER ABOUT TAKING CHINESE HERBS?
A: FIRST, INFORM YOUR CHINESE MEDICINE PRACTITIONER ABOUT ANY DRUGS YOU ARE TAKING. HE OR SHE IS TRAINED TO KNOW OF ANY POTENTIAL DRUG INTERACTIONS. YOUR MD SHOULD BE TOLD ABOUT THE HERBS AND SHOULD WORK WITH THE HERBALIST.
Q: WILL ACUPUNCTURE INTERFERE WITH PRESCRIPTION MEDICATION, CHEMOTHERAPY, OR OTHER MEDICAL TREATMENTS?
A: RARELY IS THERE ANY CONFLICT. USUALLY HERBAL MEDICINE WILL SUPPORT THE POSITIVE EFFECTS AND REDUCE THE SIDE EFFECTS OF PRESCRIPTION DRUGS.
Q: IF I AM SCHEDULED FOR SURGERY, CAN CHINESE HERBS HELP WITH PRE-OP AND POST-OP PROCEDURES, AND/OR THE HEALING PROCESS?
A: YES! ALL OF THE ABOVE, WITH PROPER INSTRUCTION.
Q: ARE CHINESE HERBS EXPENSIVE?
A: A WEEK'S SUPPLY IS FROM ELEVEN TO THIRTY DOLLARS.
Q: IS IT SAFE FOR CHILDREN TO DRINK CHINESE HERB TEA?
A: THE CHINESE MEDICINE PRACTITIONER WILL MAKE THAT DECISION BASED ON MANY FACTORS. WE OFFER A FULL RANGE OF PEDIATRIC SERVICES AND ENCOURAGE YOU TO CONSULT WITH US REGARDING YOUR CHILDREN'S HEALTH NEEDS.